There comes a point in the life of a home where major repairs or siding replacement is needed. The Improvement Company offers siding solutions that are high quality and fairly priced. Over time, the elements can take a toll on your home's siding. Pests can also burrow or do damage to large sections of siding material. If your home's siding is in need of repair, you can rely on our siding team to replace old siding with new material that will enhance your home's curb appeal and even help you protect its value.
Our siding contractors have years of siding installation experience. We can visit your home to inspect your siding and then help you select material that suits your home's style and needs. Contact us today to get a free quote!
Our Gilbert aluminum siding professionals can discuss the benefits of this type of material with you in detail. Simply put, The Improvement Company offers this type of solution because it's affordable, durable, and requires little maintenance from homeowners. We'll discuss the ins and outs of this popular siding material with you and help you choose the best option for your house.
Contact The Improvement Company and work with our experienced Lexington siding contractors if you feel your home's original siding is dated or needs to be replaced because it's in poor condition. Let us visit and provide you with a quote for Irmo siding replacement.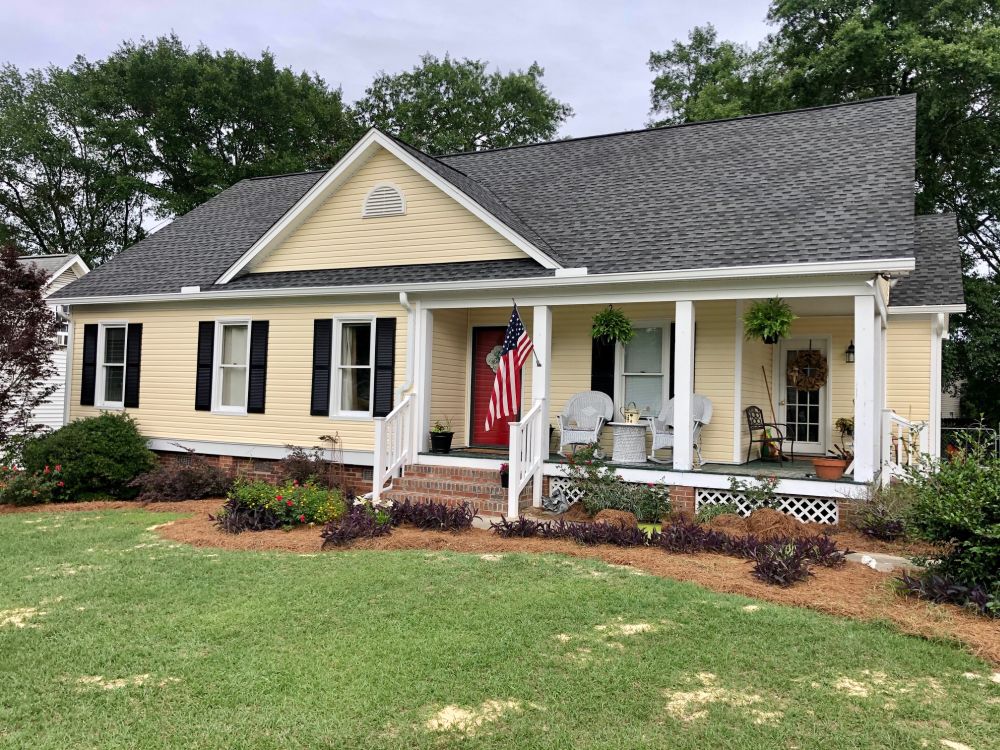 Look at the transformation above. Karen T. knew the approach to the property needed some help. After a bit of masonry work in the front steps, new gutters, a bit of landscaping and a refresh of the siding - this home is stunning. See for yourself how your first impression is entirely rewritten in the after photo.
The Improvement Company features gutter replacements that are professionally installed and affordably priced. We can help you choose from our gutters so you find a system that's ideal for your house.
New gutters are definitely an investment in your home's maintenance needs. Many  homeowners are uncertain about when they should repair or replace their gutters. Our gutter contractors can help you evaluate the condition of your gutters which allows you to get as much value as possible before investing in potentially costly replacements.
On the other hand, if your gutters have leaks at multiple locations or several sections of your Gilbert gutters are in a state of disrepair, you're likely better off purchasing new Chapin gutters for your home. We can visit your property to discuss our Lexington gutter replacements and their dynamic designs and styles. We can help you select color and provide you with an upfront quote for the Irmo gutters and our installation services.
Don't wait to replace your gutters if they're worn out and leaking. Our rainy South Carolina climate could be compromising the well-being of your home. Let The Improvement Company evaluate your home's gutters and recommend the ideal course of action for you.